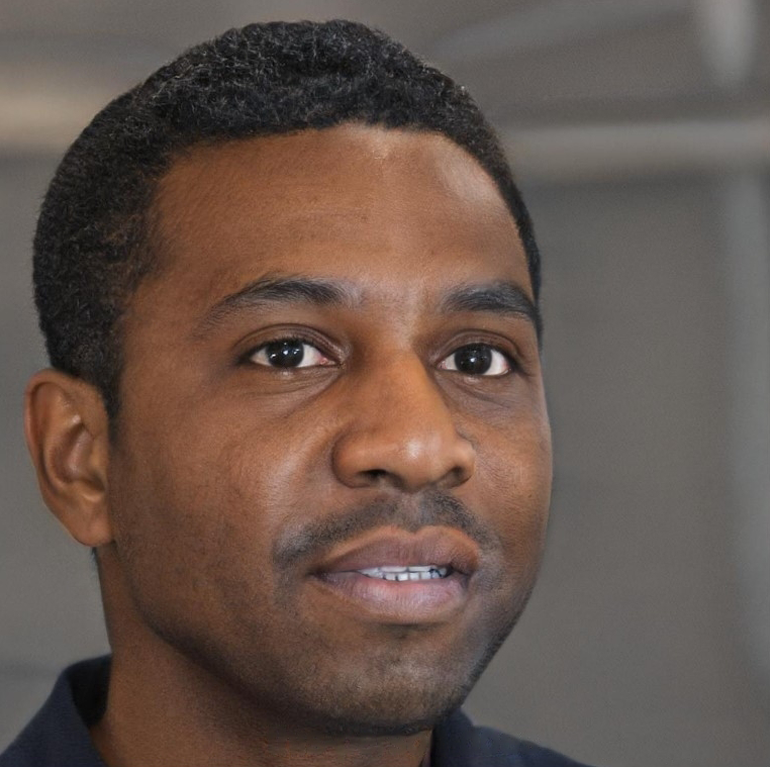 Author
Ado Alabi
20 July 2022
Last modified: 28 September 2023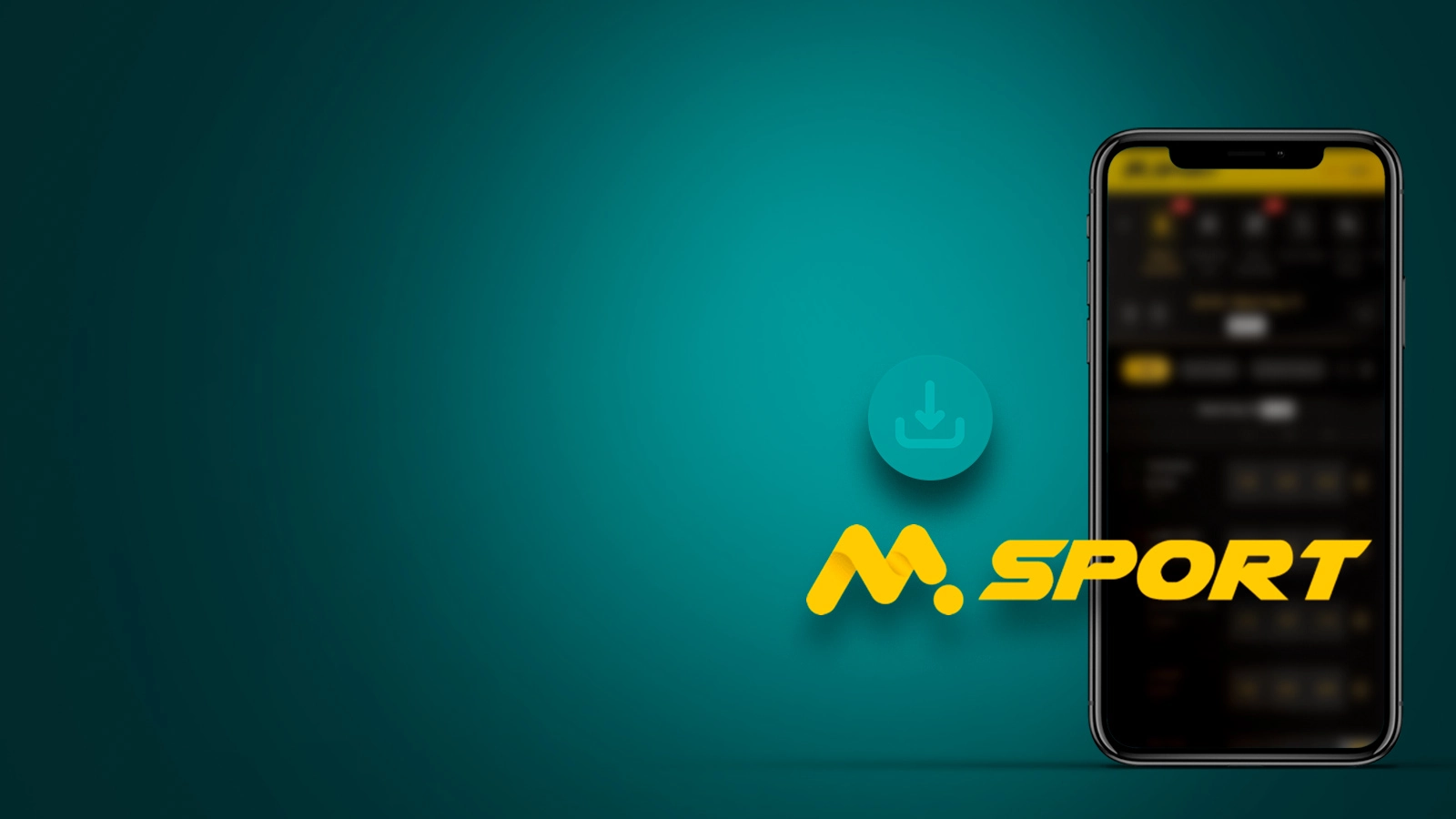 Download & Install MSport App
Sports wagering applications have been steadily winning over the hearts of Nigerian punters and it is so for a good reason. Betting from an app is way more convenient and simple, almost trivial. In this article, we will take a close look at one of these sports betting apps, MSport and will find out whether it is good or not, how to download it and a whole lot more.
But if you are looking for a full and detailed review of MSports Nigeria, then simply read our separate piece which is all about that.
App Review
MSport application is among the best ones in the entirety of Nigeria. It is well-optimised, fast-running, and provides a multitude of benefits compared to the bookmaker's webpage or a betting shop. For example, within the app, you'll be able to place bets at a moment's notice which is very much important in live betting. You will also be presented with an opportunity to get notified whenever something important happens in a game as well as see a live score of your bet on the notification bar.
Bonuses Within the App
There are no app-specific bonuses on MSport, however every promo available on the main webpage of the platform is also present inside the application, so you may take advantage and use them without any sort of issue.
How to Download MSport App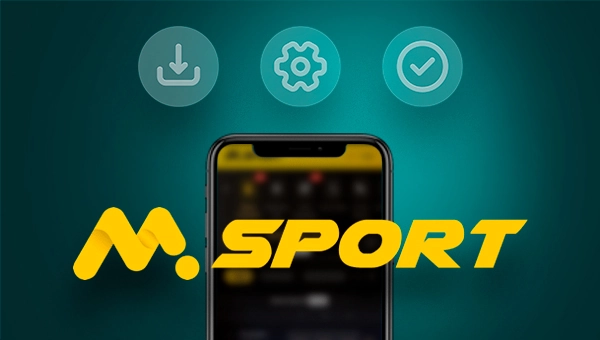 Now let us talk about the really important stuff, download and installation of the app. First of all, you are able to get the app for Android as well as iOS operating devices which is very significant and most welcome. We will cover the processes for each operating system separately.
Supported Devices for iOS и Android
On iOS, you may get the app only if your gadget is running iOS 9.0 or a later version and for Android, your device should be running any version starting from Android 4.0.
How to Download MSport APK on Android
Getting an app for Android is an incredibly easy thing to do. Simply follow our instructions below, and you will be done in no time at all!
Android Requirements
To download the app, your gadget should run Android version 4.0 or higher and have 100 megabytes of space on the hard drive.
Installation Guide
Now to the good stuff, the actual process of the download.
Go to MSport and Find the "Apps" Section. To begin, go to the MSport official site. There, look for the "Apps" section and tap on it.
Hit the Button for the Android APK Download. A new tab will appear with two buttons, one of which initiates the Android app download. Press the designated button and the download will begin.
Get the App and Allow the Installation from an Unknown Source. When it is finished, you will need to install the application. Open your telephone's settings and allow installation from an unknown source.
Install the APK and Start Using the MSport. Then open up the APK file and the installation will start. When it's all done, you'll be able to start betting with MSport!
How to Download MSport App on iPhone (iOS)
Now, let us discuss the download process for iOS operating devices. It is even more straightforward than the Android one.
iOS Requirements
To download the app your gadget should run iOS version 9.0 or later and have 167 megabytes of space on the hard drive.
Installation Guide
To get the app for iOS, simply do the following:
To begin, go to the MSport official site.
There, look for the "Apps" section and tap on it.
A new tab will appear with two buttons, one of which initiates the iOS app download.
Press the designated button and you'll be sent to the MSport app store page.
There, press the "GET" button.
Soon the process will be finished, and you'll be able to start betting.
Comparison of MSport Interfaces and Their Features
MSport's selection of the way in which you may bet is truly staggering but which one of them is best? We have decided to compare each one of them to another to see which one is supreme.
Desktop Webpage
This option is probably what you are most familiar with. MSport's webpage is slick and well-designed with all the features the company has to offer. It also, along with the mobile version of the webpage, is the only way you can play at the MSport in-built casino with a bunch of very exciting and engaging games and slot machines.
Mobile Webpage
It is very much similar to the ordinary desktop version but is optimised for the smaller screen of your mobile device. Not very special at all, it simply brings more comfort to the players who wish to gamble from their gadgets but for some reason ignore or are unable to get the application.
iOS
The iOS version of the MSport application is probably the best way to enjoy your time with the company for any iOS user. It runs perfectly smoothly, has zero to no bugs and glitches and presents you with an option to instantly react to every change in the match you are betting on. The only downside is the lack of casino games but if you are interested solely in sports betting then it is the perfect version for you.
Android
As it is with the iOS version, the Android one is the best way to enjoy sports wagering on MSport for those whose devices are running this operating system. It will provide each and every punter with a magnificent sports betting experience in a very light and convenient form.
Old Version
Once upon a time there was an older, less advanced version of the application which had similar functions but was only available on Android. Nowadays, you cannot get it anywhere, and it is honestly for the best. The old app was laggy, barely performed and had a primitive, crude design. It is so much better right now that we have an app that runs well and provides everything a punter needs.
Main Features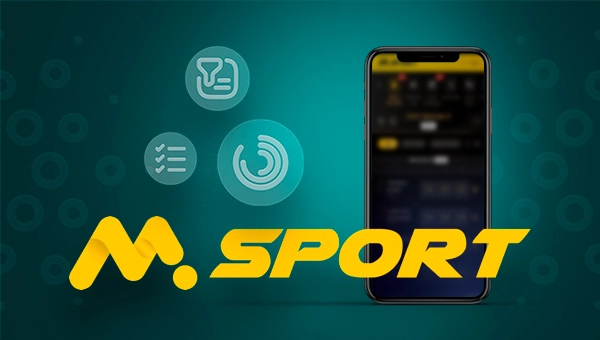 MSport has a plethora of great features available within its app. We have decided to take a close look at some of them and subsequently tell you about them, what advantages they bring and how to use them to the biggest extent.
Virtual Sports
The platform does not only offer punters to bet on regular old sports but also provides a massive selection of virtual ones. You will be able to find such things as Virtual EPL and Bundesliga, V Tennis, V Dog and V Horse racing and even the digital version of the world cup. Not only will you be able to bet on those imaginary events but also view them as they are happening in simulated, high-quality footage.
Live Betting
Although live betting is a fairly common trait of sportsbooks nowadays, the MSport app allows you to not only wager on the game as it is happening but also view each and every occurrence as well as the total game score right on your taskbar, so that you may continue with your other things without the need to constantly refresh the app or even open it at all.
The Abundance of Sports
The variety of sports presented to you to bet on inside the app is simply mind blowing. You may find classics such as soccer or basketball, niche sports like darts or rugby and even a multitude of eSports in various disciplines like Counter-Strike: Global Offensive, Dota 2 or Call of Duty.
Lots of Betting Markets
For each sport available on the platform you will find an abundant list of betting options. They are all tailored specifically for each sport and enable you to get the most out of each wager. For example, for soccer, you will find traditional totals, over/under and such but for things like Counter-Strike there will be options like a total number of kills and the KDA ratio of a certain player.
Customer Care Service
In case you have encountered any sort of issue while playing on MSport, do not hesitate to contact customer care service specialists. They will make sure that your issue is resolved in the matter timely and efficiently. One major advantage it has compared to other similar services on other platforms is the fact that they are available round the clock. It means that even if something happened in the middle of the night, you will still be able to contact them and get your problem resolved.
Yes
018888331
013438331
/MSport.ng
support.nigeria@msport.com
@MSportOfficial
Deposit and Withdrawal Options
To place a wager on the app you will need to deposit some funds into your MSport account. There are several methods you may utilise for that:
Visa
MasterCard
Verve
Paystack
USSD GTB
Bank transfer
The same options might be used for withdrawal.
Ups and Downs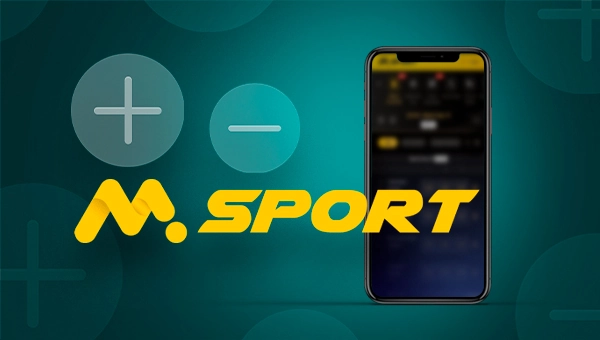 Let us list all of the pros and cons of MSport sports betting application in a quick and easy-to-read table for your convenience.
Great optimisation
Easy to get
Event notifications
iOS and Android applications
Round-the-clock customer support
Lack of casino in apps
A little bit sloppy design
In Conclusion
Overall, MSport is a splendid sports betting application. The quality of it is simply superb, the features are enticing and the chances of winning it big are quite high. If you still bet using a browser, switch to the app immediately. You have never experienced such comfort in sports betting, and it is high time to change that.
FAQ
From which country is MSport from?
The company was founded in Nigeria.
What's the biggest winnings sum on MSport?
Around 15.000.000 Naira.
How can I cashout on MSport?
Sadly, MSport does not offer a Cashout at this moment.
How can I sign up with MSport?
It is quite easy, simply follow the guidelines we have laid down for you in our MSport registration piece.
How can I get a free bet on MSport?
Unfortunately, you currently cannot get it, but we will keep you updated on that and other MSport betting tips in the future.
How can I get free money on MSport?
You can't.
Does MSport have an application for iOS?
It most certainly does!